What is Manage Collaborators?
To invite people to view or collaborate on your app, from the main app dashboard, click the More button under any app, then click Manage Users.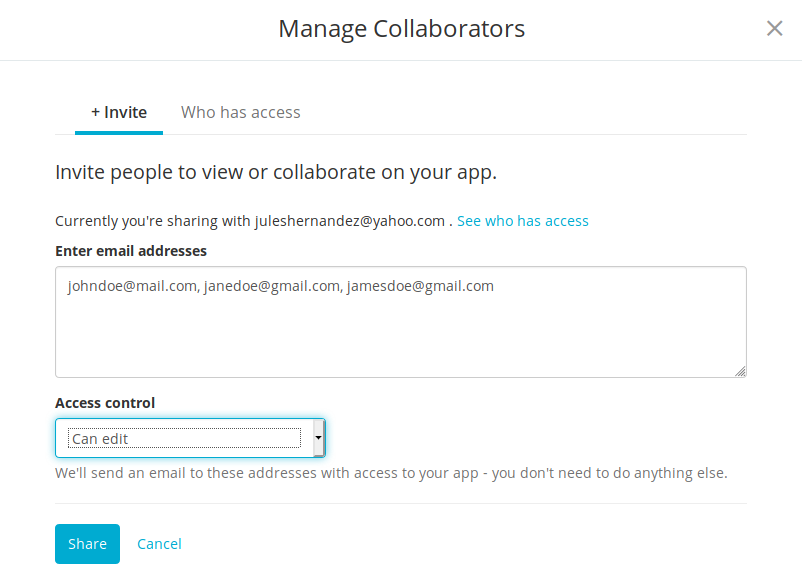 How to use Manage Collaborators
To invite someone to your app, on the Manage Collaborators' +Invite tab, enter the email address, then select the type of access to be given to the user, which can be one of three types:
Can edit and publish updates

Can edit

Preview only
When inviting several people at the same time, it is standard to separate multiple email addresses with a comma. However, everyone invited at the same time will have the same access control level.
The invitation(s) are then sent to the email address(es). To accept the invitation, the user simply has to click the link in the email, then enter the login credentials provided.
To view people with access to your app, click the Who has access tab on the Manage Collaborators screen. From here, you can edit access types, e.g. from Can Edit to Preview only. If you've already invited many collaborators and finding someone in the list proves tedious, you can search for the email address or name instead, then edit the access type once you find the correct name.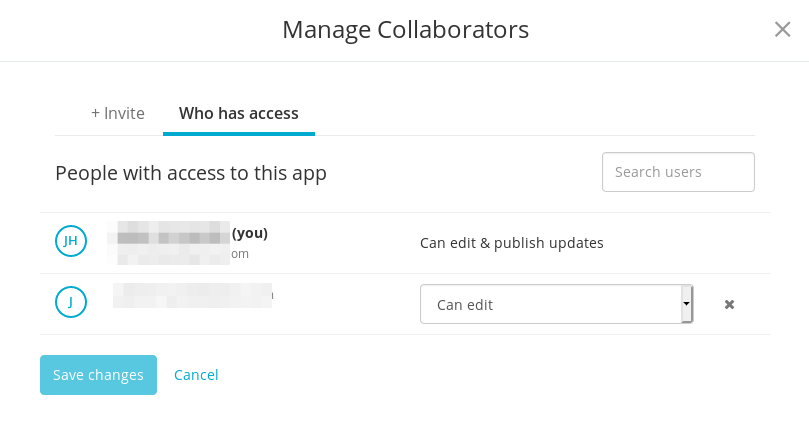 Why use Manage Collaborators?
By using the Manage Collaborators option, you can determine who has access to your app. This provides you with the option to seek assistance on your app from others while maintaining a certain level of security. 
Options in Manage Collaborators
+Invite tab
Enter Email Addresses

Allows entry of email addresses of potential collaborators. Make sure to separate multiple email addresses with a comma.

Access Control

Allows selection of the types of access that can be given to collaborators. There are three (3) access control types:

Can edit and publish updates

Can edit

Preview only

Share

Sends the invitation email to the entered addresses
Who has access tab
Search Users

Allows searching of the entered name or email address in the list of collaborators

Access Control Dropdown

Allows editing of the type of access given to collaborators.  There are three (3) access control types:

Can edit and publish updates

Can edit

Preview only

Save Changes

Saves the edits, if any, made to the record of the collaborator