Watch the video or read the article below.
Features
Submitting an app to Apple Business Manager offers the following features:
Fliplet users can configure device settings.
Fliplet users can automate device deployment.
Get Started
To submit an app to Apple Business Manager you'll need to:
Step 1 – Submit the app to the studio
Note: Before you begin Step 1 you will need to go to "Publish" in Fliplet Studio, open Publish to Apple devices, Go to the App Store tab, fill out the information in the different drop down menus, and under App technical details proceed with part 1 of Step 1.
Decide on a new Bundle ID: com.fliplet.fliptonians.
Submit an AAB request for the App Store.
Wait for the build and submission to Apple to be approved.
To learn more about how to submit an app in the studio, read the following article: How To Launch An App To The Apple App Store.
Step 2 – Make the app available for ABM in app store connect
When the app listing becomes available on App Store Connect, go to Pricing and Availability > Distribution for Business and Education and update the option to make it Available for private distribution to specific organizations on Apple Business Manager or Apple School Manager. This tells Apple that the app is intended to be distributed via ABM instead of via the App Store.

Fill in the following fields and save the form. -Type: Organization ID -ID: (As provided, see below) -Organization Name: (As provided, see below) Organization ID and Organization Name are found by logging in to business.apple.com and going to Settings > Enrolment information.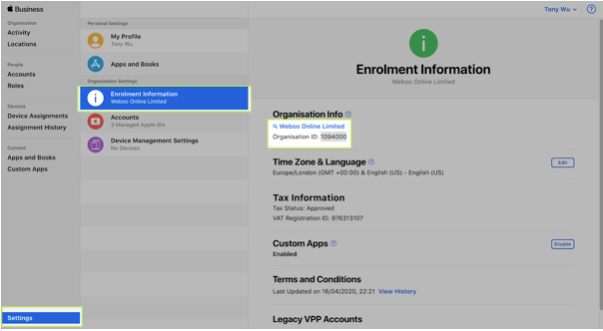 Step 3 – Make the app available on MDM
To make an app available on MDM, open the Deployment & Security Options article and scroll down to the sections on MDM, and follow the links. This guide by Apple may also be helpful.
Step 4 – Share with non-MDM users – redemption codes
Redeem Codes

After the codes are redeemed, an email will be sent to you with access to a spreadsheet containing all the links.




Notes: A redemption code table will appear, and you will receive a download link. This may take a while to process. When the redemption code and download link are ready, you will receive an email from Apple.




Redemption codes only work for app store accounts in the location you specify. e.g. if I have a UK location setup and I download redemption codes they can only be used by UK app store users If you have more locations (offices), you need to add them into ABM to be able to download redemption codes for that location's app store Users of the redemption code must have apple IDs associated with the correct app store. Otherwise, they will see an error:



Was this article helpful?