What is Fliplet Viewer?
Fliplet viewer is a Fliplet app to help you test your app on mobile and tablet devices. You can download any of your apps to test them before you publish them to the public stores or as enterprise apps. You can also see a checklist of steps to complete before you publish your app. Analytics allows you to see usage data for your live apps.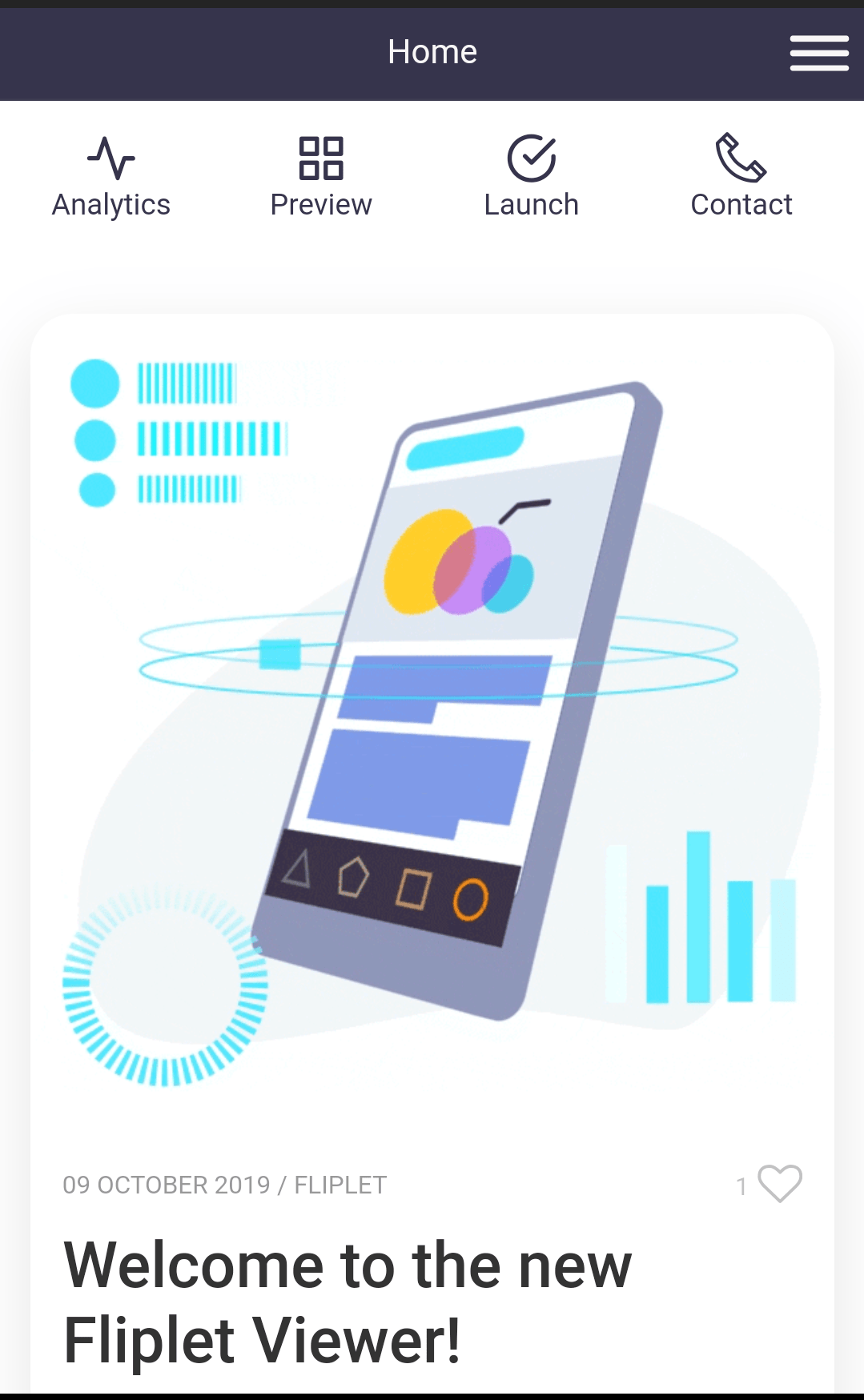 How to Use Fliplet Viewer?
Fliplet Viewer is available from the Apple App Store and Google Play store for mobile and tablet devices, you can download it here:


You will log in with your Fliplet login (please ask someone in your organization or email support@fliplet.com to see about a login) and be able to see any apps you've been given access to.
Why Use Fliplet Viewer?
There are two primary reasons to use Fliplet Viewer before and after you publish your apps – testing and analytics. 
Apps – This screen will show you all the apps you have access to. There are some features such as swiping, opening email/phone programs, and others that you cannot test in Fliplet Studio or on a computer. You can share your apps with your colleagues and only allow them Preview access so they can help you test the app with Fliplet Viewer or in Studio, but not make any changes in Fliplet Studio. Navigate to the Apps screen and click the icon to download an app so that you can test the features and performance on your device.
Analytics – The analytics screen allows you to see basic stats for your LIVE apps' usage. Remember, your app must be published to see this data. This uses our Fliplet Analytics system, which can also be found in Studio with greater detail. Simply navigate to this screen, select your app, and select a timeframe and the graph will refresh.
Options of Fliplet Viewer
Home
The home screen has icons for different screens and a news item. There is also a menu button in the upper right.
| | |
| --- | --- |
| Analytics | See usage data for your live apps. |
| Preview | Download any app you have created or have access to in Fliplet Studio to preview and test it on your device. |
| Launch | Review checklists for launching your app to the public stores or as an enterprise/corporate app. |
| Contact | Leave feedback or get various contact information for Fliplet. |
Analytics
| | |
| --- | --- |
| App | Select the app you wish to view usage data for. You must have access to the app. Please note the app must be published to show any data. |
| Period | Select the timeframe to show usage data for. |
Apps
Download/Open
Click the download icon to begin downloading the app to your device for testing. Once the download is complete, click on the app name to open it.
Delete
After the app has been downloaded tap the icon to show the delete option. Note: deleting the app does not remove it from Fliplet Studio, only that specific device.
In-app Message
Once you enter the app you will be shown a pop-up message explaining that you can press and hold on any screen to open a special menu with these options:


Exit –  leave the current app and return to the app list in Fliplet Viewer
Updates – check for in-app updates to this app
Cancel – closes the pop-up menu
Launch Checklists
| | |
| --- | --- |
| Public App Store | A checklist for launching to Google Play or the Apple App Store. Use this to make sure you have everything ready for your app's submission (and hopefully approval) by Apple and/or Google. Press the clear button to reset your progress. |
| Corporate App Catalogue | A checklist for creating an enterprise/corporate app for your organization, typically distributed through an MDM. Press the clear button to reset your progress. |
Contact Us
| | |
| --- | --- |
| Feedback | Leave us feedback or request support in regards to the Fliplet Viewer app. |
| Contact Info | A list of information to call or email Fliplet in the US/NA or UK/EU for support, app plans, or general enquiries. |