Features
Two-factor authentication offers the following features:
Fliplet users can enforce an additional security layer for their account
Information is protected through added security.
Get Started
To enforce two-factor authentication you'll need to:
Step 1 – Be an admin of your organization and open the Organization Dashboard
Note: At this time, only organization admins can enforce two-factor authentication on Studio Accounts.
Login to Fliplet Studio.
In the top right corner of your device screen, click on My account and select "Manage organization".

Step 2 – Enable two-factor authentication
Under Manage organization click on the "Security" tab.

Next to Enforce two-factor authentication click on the "Configure" button.

Check the box next to Enable and enforce users to configure two-factor authentication when they next sign in to Fliplet Studio.

Click on the blue "Save" button.

User Authentication Process
The next time you sign in to Fliplet Studio you will be prompted to enable two-factor authentication through a menu box that looks like this: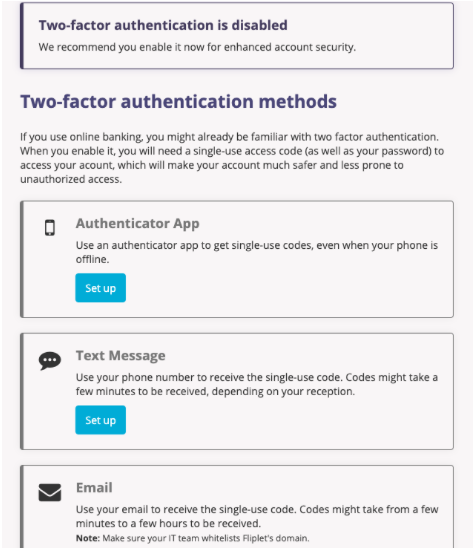 Select which option works best for you and follow the on-screen instructions to enable.
When you have successfully set up two-factor authentication, you will receive this message.